Parents and their children, relatives, spouses and even siblings have previously risen through various ranks of the Nigerian Army together, but Musa and Ishaya Bamaiyi are the first and only pair that rose to the rank of a general.
Major General Musa Bamaiyi (late) and Lt General Ishaya Bamaiyi are from a family of 12 children: eight boys and four girls, including two sets of twins. They hail from Zuru in Kebbi State. Ishaya is a devoted Christian while Musa was a Muslim. Another member of the Family is Late Senator Danladi Bamaiyi, he was in the senate from 1999-2003
Major General Musa Bamaiyi the eldest of the two brothers was born in 1948 .He enlisted in the Nigerian Army in 1968 and was at a time the acting Governor of Benue State .He later headed the National Drug Law Enforcement Agency (NDLEA). Musa retired in 1999 and died in 2007 .
Late Major General Musa Bamaiyi (Rtd)
The younger brother, Lt General Ishaya Bamaiyi, GCON was born on 21 September 1949. He was Short serviced commissioned into the Nigerian Army infantry Corps in 1968 as a member of SSC 4 .He schooled at the Nigerian Defence Academy Kaduna in 1968 and he went for advanced military trainings in UK and US. The post he held in Nigeria Army includes Commanding Officer 70 Infantry Battalion, 1972–77, Directing Staff, Command and Staff College, Jaji , 1982–84,Commander. 9 Mechanised Brigade, 1986–90,Commander, Brigade of Guards, 1990–92,Director Training, Army Headquarters, Department of Operations, 1992–93 Commander. Lagos Garrison Command. 1993-96 .
In March 1996 General Bamaiyi was appointed Chief of Army Staff (COAS) by General Sanni Abacha. He served in that role for 3 years until his retirement on May 1999.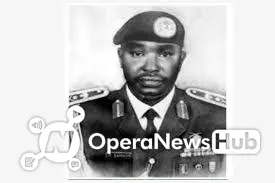 Lt. General Ishaya Bamaiyi (Rtd)
However, an embarrassing scandal broke out in the Bamaiyi family when Musa accused Ishaya of having carnal knowledge of his wife, Ladi Bamaiyi and secretly sending money and clothes to her in a bid to seduce and lure her away from her matrimonial home. Trouble started when one of Musa's daughters who was living with her step mother in Zaria, told Musa that Ishaya was having an affair with his wife.
The feud led to Musa seeking redress from the Human Rights Violation Investigation Commission (HRVIC) Panel, headed by Justice Chukwudifu Oputa. The accused, Gen. Bamayi denied ever having any amorous affair with his brother's wife stating that it could not have been possible because he was living in Lagos then while Ladi was in Zaria. According to him, he was only being compassionate by sending money and clothes to his brother's wife following the incessant maltreatment melted on her by her husband and his kind gestures were just misconstrued by her husband to mean seduction. It was reported that the feud remained unsettled till the death of Musa Bamaiyi on April 17 2007
In 1999 Gen Bamaiya was charged with the attempted murder of Guardian Newspaper Publisher Alex Ibru but was later discharged and acquitted in 2008 of any wrongdoing after nine years in detention .